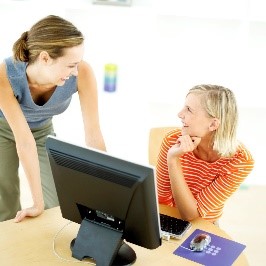 Regardless of what your organization does formally around performance management, as a manager you can provide regular performance feedback to your employees through a variety of formal and informal methods. This keeps your employees moving forward and engaged and enables them to make adjustments as needed to keep growing personally and professionally. And…when it finally comes around to formal performance review time within the organization – you'll have much of the work already done and your employees won't have any surprises!
Let's look at a variety of formal and informal methods to provide feedback on staff performance:
Providing Feedback on Performance

Formal Methods

Informal Methods

One-on-one meetings
Department meetings
Via regular status reports on projects/major tasks
Small team meetings (such as when a few employees are working together on a task/project)

Coffee or lunch with individual employees
"Popping" by an employee's desk or workspace
As a situation arises (such as immediately after a client phone call or a client meeting)
Informal meetings (employee stopping by your office)
By taking advantage of formal and informal methods to communicate with and engage employees, the manager is provided a number of opportunities to provide feedback on performance and make corrections immediately and provide positive feedback as soon as possible.