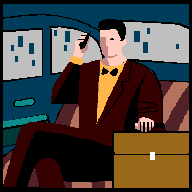 If we aren't traveling these days we are often on any number of phone calls during the day that keeps us locked up in our offices. This makes us unavailable to our team and leaves them feeling forgotten about and isolated. They may need our assistance and we are not accessible because we are tied up in yet another meeting. If we want our teams to be successful in accomplishing their initiatives and tasks, we have to be available to them so that they can get the support they need. Even our best employees often need to bounce an idea off us or get our advice on handling a customer problem.
Here are some ideas to help you stay accessible and available to your team:
Have regularly scheduled team meetings as well as one-on-one meetings. Plan for meetings at least 6 months ahead of time so that the meetings are on your schedule as well as the team's schedules. If meetings are scheduled, they are less likely to get bumped for other work or other meetings.
At least twice a week have 2 – 3 hours blocked on your calendar for "open office" hours. For one day make those hours in the morning, for the other day make them in the afternoon. Make yourself available even while traveling for business during those times when possible.
Ensure that you have updated processes and procedures for solving problems and making decisions. This way the team knows the parameters in which they are working and know when they need to reach out to you.
Have a backup when you are away on business and unreachable or on vacation – a peer who can assist your team so they can get what they need and keep moving forward with their assignments and tasks.
Utilize a collaboration portal where others on the team can provide support and where you can "check in" to collaborate with the team and share information.
Even with hectic schedules it is important to stay in touch with the team. Even team members who are more senior and seem to need little support will need your help at some point or another – be available to them!