I need to get control of our virtual team meetings!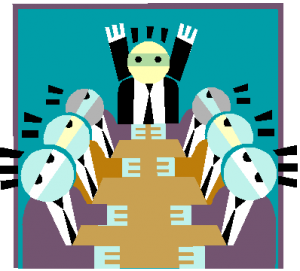 Read Part I for background information.
What is going on?
Likely, the following are issues for this team:
Lack of meeting skills
No meeting processes in place
No team norms
The team leader is not intervening and effectively facilitating meetings to follow agendas (additionally, agendas may not be well developed)
How can it be fixed to ensure this team initiative is a success?
The team leader might meet with the team as a whole with the sole purpose of discussing how to have more productive meetings. Start with acknowledging the great ideas of the team and the fact that everyone is engaged. Note that with more processes around team meetings, they can be even more effective enabling for the great ideas shared to be acted upon for the benefit of the team and the project overall.
This meeting should also include a "how to participate in meetings" training session* with best practices around listening skills and sharing information effectively among the team.
Use this time to also develop team norms for participating in meetings and outline roles and responsibilities at team meetings for team members. This might include a facilitator (it doesn't need to always be the project leader!), consensus taker, time keeper, note taker, etc.
*Effective team member meeting behaviors include:
Listen actively
Support others
Stay on topic
Probe for details
Clarify for understanding
Build on other's ideas
Include other in discussions
Offer new ideas