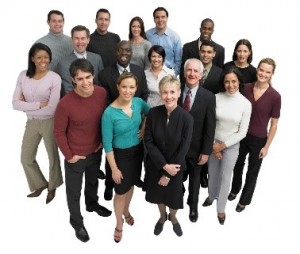 I was talking with one of my clients just recently – an executive who heads up human resources for a client with offices across the globe.  He told me that one of his personal goals this year was to focus on the people side of the business. Specifically, he wanted to be sure employees were engaged and had what they needed to be successful in the organization. There was some great talent within the organization and he wanted to be sure that talent stayed around. He wanted to support all of the employees' goals and ensure they were aligned to the organization's goals.
We first discussed whether he had executive (his peers) support to move forward with his goals. He felt he did, but wanted to prepare a brief presentation for the next executive meeting about the benefits of focusing on the people side of the business.
First, let's look at some areas of focus we'll be concentrating on in this initiative, and then we'll discuss the benefits.
In order to focus on the people side of business, we decided that the following would be the primary focus:
Rewards and recognition programs: while there were a few programs in place, they were outdated and barely utilized any longer
Flexibility in the schedule; virtual/remote work: there was a desire to enable for a bit more flexibility on the job for employees and additionally remote work was possible given roles and responsibilities of most employees
Variety of work opportunities: the ability to work on cross-department initiatives, organization-wide initiatives and other special projects
This "wish list" for employees was based on a recent employee engagement survey we conducted and also through conversations with top talent in the organization.
In order to have a conversation with the other executives, we decided to focus on the following benefits:
Focus on…

Benefit to organization…

Rewards and recognition programs

Additional perks for employees/increased employee engagement
Shows commitment to employees
Retention of talent
Enables for exposure of employees at the leadership level

Flexibility in the schedule; virtual/remote work

Retention of talent
Improved work/life balance
Wider pool of talent to draw from
Cost reductions (no need for office space for all employees)

Variety of work opportunities

Opportunities for personal and professional growth
Increased ideas on how to improve the business
Innovation and creativity by enabling a diverse pool of  individuals to work cross-functionally
Identification of high potentials
Retention of talent
This was a first cut at benefits that would be seen as valuable to the executive team, but more work was needed to expand on this and, when possible, to put an ROI to the benefits which would certainly be an eye-opener for executives.