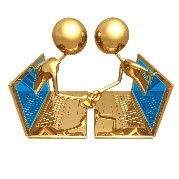 Collaboration portals are a great way to engage learners. At Abudi Consulting Group, a number of our clients who run year-long leadership programs for their employees partner with us to enable for a collaboration portal.
The Value of Collaboration Portals
Collaboration portals enable for a variety of benefits for learners, including:
A "safe environment" to discuss challenges of managing staff with other leaders
A way to continue to the conversation between training sessions
A forum to share best practices
A forum for the facilitator to continue to share relevant articles and other information with the learners
A forum for discussing case studies and furthering discussions held during the time together in learning sessions
For organizations, collaboration portals are a way to ensure that the learning continues between training sessions. This is especially important for longer term programs that run over the course of 6 months to a year or even longer. Collaboration portals also reduce the time in the classroom by enabling the facilitator of the program to engage the students in discussions, problem solving scenarios as well as mini case studies.
How to Use a Portal as Part of a Leadership Program
When designing the leadership program, consider how a portal can be used to support the learning from the program. This may include:
Having learners participate in discussion topics
Sharing how learners are using the skills and knowledge they are learning in the classroom
Enabling for collaboration between learners in resolving conflicts, solving problems or implementing ideas
Having learners participate reading about and developing solutions to mini case studies or problem solving scenarios
A portal enables for learners to build on what they have learned in the classroom as well as build strong relationships between them and their peers. This connection and networking between peers continues well after the training program has concluded.
Learn more about how Abudi Consulting Group uses collaboration portals to support longer-term leadership development and other training programs for their clients.