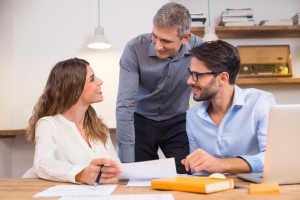 Providing new leader a mentor achieves a number of benefits to the leaders as well as the organization, many of the benefits directly attributable to the bottom line. Mentors enables new leaders to be successful sooner in their role. Additionally, a mentor enables for:
Understanding and absorbing the corporate culture
Learning business processes
Learning about informal ways that the work gets done
Providing a sounding board as new leaders set goals and work through challenges
As part of a new leaders' first week on the job, provide them access to:
Strategic plans as well as a recently completed SWOT analysis
Financial information over the past 3 – 5 years
Information of product and service lines
Staff performance reports
Challenges the company is facing
Mentors can assist the new leader is sorting through and making sense of this documentation.
In working with organizations to help leaders acclimate, Abudi Consulting Group has found enabling for new leaders to participate in conversations throughout the organization – with all levels of employees, not just other leaders – enables for them to have a more complete understanding of the organization – its successes, challenges as well as opportunities that exist.
The more time spent in acclimating new leaders and providing them support through mentors, the quicker they adapt to the organization and can begin to be successful in their role.