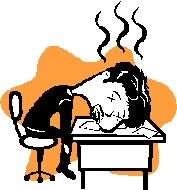 Sometimes our team members get burned out. Let's face it, we have all been there at some point. Especially in organizations that are on the go and team members move from project to project with barely a time to take a breath in between!
Burned out team members don't have to stay that way! As leaders, we need to recognize when team members are getting burned out and help them through.
Team members get burned out for a number of reasons, including:
Not having enough breaks during the day
Moving from project to project without any time in between to celebrate successes (or capture lessons learned)
Being assigned projects without regard for skills or knowledge of tea members (always having to learn on the job)
Not having time on the job to develop new skills or enhance current skills
Not being given opportunities to be involved in new initiatives or take on interesting work
We can recognize signs of burn out in a variety of ways:
Employees who are unengaged
Employees taking significant time off or calling in sick
Employees who are arriving late or look to leave early
Employees who are suddenly cynical or critical of the work or those around them
Employees who are impatient with customers or their co-workers
Employees who are not as productive as they have been in the past
Of course sometimes these signs are symptoms of other issues, but these signs should prompt leaders and managers to inquire further and ask the employee how things are going and to see if the organization can help in some way. Let's assume that burn out is the issue.
When leaders find out that employees are burned out, a conversation with the employee will be valuable to help the employee get back on track. Find out what is going on to make the employee feel burned out and what can be done, in collaboration with the employee, to get the employee back on track.
Any of the following may help re-engage a burned out employee:
Giving them some time off from the job
Enabling them to attend a conference or another work-related event
Providing them the opportunity to work on an interesting project
Ensuring breaks are given between projects (don't shuffle employees from one project immediately on to the next)
Enabling for regular breaks (and pushing employees to take breaks!) during the day
Celebrating successes in projects and enabling for lessons learned to apply to future projects
Holding regular one-on-one meetings and department meetings to check in with employees
When we recognize the signs of burn out early, we are able to turn it around and re-engage employees before they get to the point where they leave the organization.