Best Practices to Keep Your Orientation Programs Effective for New Hires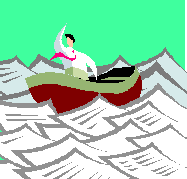 In evaluating new hire orientation programs with our clients, Abudi Consulting Group has seen the biggest problem being information overload. New hires (and anyone frankly!) can absorb only so much in any given time period before they are overloaded with information. When information overload occurs, new hires get frustrated, stressed and worried about whether they can do the job. The ability to retain information is reduced dramatically and new hires are just not as effective.
To reduce information overload, try these best practices:
Include only information that is absolutely essential during the first day on the job; share other information throughout the next couple of weeks.
Provide written information, an employee portal or other documents that the new hire can review later on and reference as needed.
Intersperse providing information to new hires with enabling them time to get to know others by making introductions within and external to their department and setting up coffee or lunch breaks.
There is lots of information to be conveyed to new hires but it doesn't need to be provided all in one day! By spreading out the information over a few days or even weeks, the new hire is more likely to retain the information and not be so overwhelmed.