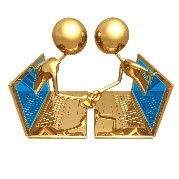 Remote (or virtual) teams are certainly not as easy to engage on a project or initiative as are teams that are co-located, especially if we are never able to get them to come together to meet each other face-to-face at least on occasion. If it easier to ignore others when we don't see them every day. However, if we don't effectively engage the remote team, we will find it more difficult to accomplish our goals and objectives.
For the purposes of this article, let's assume that you are unable to get a remote (virtual) team together for a face-to-face meeting. Let's focus how we might engage a team that we cannot get together via a virtual meeting.
During the first virtual meeting with the team, discuss the following:
Goals and objectives of the team (what is their purpose); a clear vision to be shared with the team
Processes, guidelines and ground rules for how decisions will be made, problems solved and how the team will communicate with each other and get the work done
Sharing of the backgrounds of each team member plus include a bit of personal information (hobbies, etc.)
Clear roles and responsibilities on the team
Determine how technology will be used on the team, including providing training for technology selected and ensuring that technology selected is accessible by everyone on the team regardless of location
Definitely spend time getting to know each other on a personal level as we connect with each other better when we have taken the time to know each other and establish a relationship. You might, for example, collect information on each person (such as how many children they have, favorite sports teams, hobbies, etc.) and develop an activity where team members will spend time "talking" with each other via email (or, better yet, a collaboration portal) to get answers to questions such as: "Who on the team has 5 children and another on the way," or "Who enjoys skydiving." This is a fun way for the team members to learn about each other on a personal basis which enables for a more effective working relationship.
At the very start of the meeting with the team you might ask each member to introduce him/herself including information such as:
Name
Job role
How long with organization
How they got started with the organization
What they like best about their role
For vendors who are part of the team: when they started working with the organization
Why they are looking forward to working with the team
Their favorite weekend hobby or way to relax
I also find it valuable to ask the team to respond to two of the following questions:
My favorite subject in school was ….. because …..
I take pride in ….
A rewarding project is one that…..
What frustrates me the most is ………
My favorite sport is ………….
If I could travel anywhere in the world and stay for 3 months I would choose ……..
The best thing that happened to me this week is ………….
These simple activities enable team members to get to know each other and generates additional conversation and camaraderie between the team members.
Collaboration Portal
Consider the use of a collaboration portal (I use Microsoft SharePoint® myself) to enable for a "one stop location" for all things related to the team's project or initiative. Such a portal or intranet site enables for sharing of information about the project, communicating among team members (and stakeholders) and discussing problems that may arise. The portal, when used as a collaboration tool/knowledge resource for the project, may include:
Project or initiative information
Status reports
Project schedule/timeline
Project documentation
Tools and templates to be used by the team
Document sharing

Project team member contact information, special skills/expertise, roles and responsibilities
Organization-wide "to go" people/resources
Best practices and processes for resolving conflicts, solving problems
Ensuring Continued Engagement
Each virtual team meeting I always allow for time for one activity to get the team engaged. It may be a question I ask the team members to answer at the beginning (such as: What movie did you recently see?) or to share a funny story.
Check in with the team to ensure that they are getting what they need from you as the team leader/manager. Ask 3 simple questions:
What am I doing well to support your efforts?
What else can I be doing?
What else would you like to share?
Additionally, ask the team as a whole these two questions to check in:
What are we doing well as a team?
What are the areas in which we need to do better as a team?
While it is more difficult to engage virtual/remote teams, a commitment and investment on your part to do so enables for increased effectiveness on your initiative (meeting goals and objectives) and enables for a much better experience overall for your team.