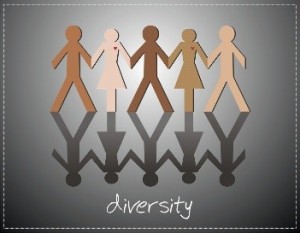 Many organizations discuss diversity and talk about the importance of diversity, but few have a working definition of what diversity means for the organization. Without a clear definition of diversity, how can the employees within the organization get behind diversity in the organization?
A recent meeting with a client indicated that we needed to step back to define diversity within the organization before we could move forward and determine what we expected from management and employees as it relates to diversity. At this client, while meeting with the executives, I inquired as to what diversity meant and received a variety of responses:
Ensuring we have women in leadership roles
Ensuring that we have individuals from a variety of ethnic backgrounds in the organization
Training our staff in cultural diversity
Ensuring that Human Resources has a plan to hire diverse candidates
Diversity in age, gender, race, ethnicity, appearance, and religion
Ensuring we enable for employees with a variety of physical and mental abilities/characteristics
All are valid and illustrated to my client the need to have a working definition of diversity that everyone in the organization can get behind.  Remember – diversity is more than just the number of employees you have in the organization from a variety of backgrounds.
Before you start training individuals in diversity, be sure that there is a clear definition of diversity in the organization and that you link the value of diversity to the individuals employed by the company, the customers, vendors, future employees and to the organization as a whole so that people can understand the benefits that being a diverse organization has.
In defining diversity for your organization, keep in mind that:
Diversity is more than race, gender, religion, appearance and physical and mental ability.
How individuals perceive/feel about diversity is impacted by how they were raised, their family and friends and past experiences.
Diversity should be defined based, in part, on how it impacts the way in which employees must work – for example, is the organizational global either due to staff working in a variety of global locations or with partners/vendors/suppliers?
Remember also that even if the organization is not a global organization, likely you have employees from all over the world who are working in your organization who bring a variety of diverse backgrounds to the workplace.
Diversity in the workplace enables for:
Hiring and retaining top talent
New perspectives/approaches in solving problems
Innovation in the development of products and services
Improved relationships with customers, vendors, partners and suppliers
Related article:
How Companies Take a Systematic Approach to Managing Workplace Diversity