A Client Case Study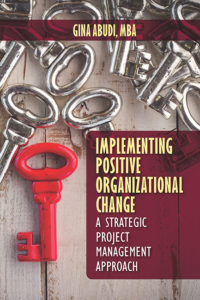 This case study is the story of one of Abudi Consulting Group's (ACG) clients, a national IT professional services firm. ACG has been working with this client for over three years; providing consulting services that have included facilitating annual strategic planning sessions with executives and bi-annual 360 assessments. This particular case study follows work ACG did with the client helping them ensure a successful implementation of a process improvement initiative through providing "behind the scenes" change management support.
The Problem
The client, an IT professional services firm, is a national organization headquartered on the East Coast with numerous offices throughout the United States. About a year ago, the client started down the path of discussing – at the executive level – how to best make improvements in the organization to better support a growing client base with increasingly difficult challenging technology implementation demands. Little has been done to makes changes in the firm as it has grown, thereby creating inconsistencies in processes and procedures and client support. As one example, some offices were better known for their customer service support than others. This created a problem for national clients who accurately perceived that some of their offices were provided far better support than others. The goal of the process improvement initiative was to better align all national offices through consistency in processes and procedures, support protocols and project management. The end goal was to have one group, based out of the East Coast headquarters, as a Center of Excellence with responsibility for all processes, procedures, and project management practices. This was going to be difficult because many of the offices would likely be hesitant to change how they worked; this being especially true for those offices who were serving the client successfully. A number of successful offices were using dramatically different processes and procedures to manage client initiatives and would be hesitant to give up control to a centralized group.
This initiative called for a strong change management lead to ensure that the initiative was successful and that common processes and procedures could be developed, implemented and followed throughout the organization. Additionally, a change management process would enable the organization to embrace the Center of Excellence. If the organization did not embrace the Center of Excellence, the group could not be successful in their efforts.
How ACG Helped
ACG provided change management support from "behind the scenes." Basically, this meant that ACG would manage the change and provide the support to executives to lead it. The executives would be the face of the organization; ACG would simply be in the background moving them in the right direction through providing change management guidance, documentation, support and training necessary to be successful in implementing such a significant change.
This support to executives included:
Structuring the change project and overall management of the project plan
Developing the communication strategy and creating all communications to be sent to employees
Developing "road show" presentations that executives would deliver at all offices
Creating the structure for a Stakeholder Support Committee that would enable for sharing of information across the organization
Creating the overall structure of the Center of Excellence
Developing and managing the portal that would be used to share information across the organization
Listing of typical questions asked and how to respond to them for use by those having employee meetings
Creating stakeholder groups based on support for the initiative, resistance to the initiative as well as those who appeared indifferent to development communications that would address a variety of needs and perceptions.
Creating the structure for focus group sessions and creating surveys, as well as rolling up the data gathered from both
Developing training for all changes to be delivered face-to-face as well as via webinars
As part of this initiative, ACG shared knowledge and best practices with a key point of contact at the executive level, enabling them to learn how to best manage change initiatives in the future.
Regular weekly meetings with the executives and others, enabled for ACG to provide guidance and counsel around problem solving, decision making and ensuring employees remained engaged in the initiative.
Although the executives (as most executives) wanted to launch and complete the initiative in less than six months, through sharing best practices and potential risks as well as inevitable challenges, ACG convinced the executives to not put a timeline on the initiative until initial conversations and sharing of goals with employees began. This enables for employees, who were being asked for their input, to feel that their input was, indeed, valued and would be considered. Putting a timeline on the initiative would simply leave employees with the (often accurate) perception that the change was already framed and their input was not truly valued.
Once all data was gathered – via formal and informal conversations, executive "road shows," focus group sessions and surveys – then a project plan with timeline was completed and shared out through the organization.
In Summary
By taking a structured change and project management approach to this complex initiative; ACG was able to partner with the client to ensure that the effort was a success. Success to the client included:
Consistency across all offices in processes, procedures and best practices
Acknowledgement, and use of, a Center of Excellence
Sharing of information, best practices and challenges across the organization (improved collaboration)
To be successful, employees had to accept and embrace the change. Tailoring communications to various groups of employees (depending on support or resistance to change) enabled for ensuring that people who were resistance were brought along and engaged in the process rather than pushed to the side where they could spread their resistance.
After launch, the portal remained open and available for communications, addressing challenges in using processes and for continuing to share information about the use of the processes. By sharing this information – both successes and where there were "tweaks" made based on pilot testing – individuals who were still "on the fence" or who declined to move forward and adopt the new processes and procedures, began to come along and embrace the change.
Frankly, much of this success was due to regularly and consistency engaging the employees in change by asking for their feedback – early on in the change initiative, through implementation and after implementation. Communications and the portal stayed active for nine months after implementation. At that point in time, 82% of employees had embraced the change. Within twelve months, that number increased to 85%.
The leadership had a structure process and plan for moving forward with future change initiatives. ACG shared best practices, their knowledge as well as a structured process so that future change initiatives could be led internally.
Want to Learn More?
Contact Abudi Consulting Group today to learn more about how we helped this client, and many others, to ensure that change initiatives – some the simplest to the most complex – are successful overall.
Check out Gina's newest book,Implementing Positive Organizational Change: A Strategic Project Management Approach, which shares her best practices and processes around leading change with a focus on ensuring employee engagement.