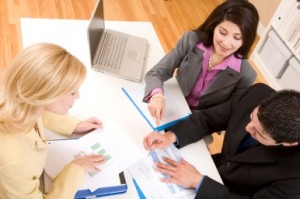 It is necessary to find some peace and quiet – "private space" – in open office environments in order get problem solved, decisions made, work through conflicts and have a meeting. This isn't easy, however, in organizations where a decision has been made to keep everyone in one open area with limited, or no, office space available.
First, open areas are great for increasing collaboration among employees and also for enabling management to work alongside employees. However, such open areas can be challenging when there is a need for peace and quiet. Many organizations with these arrangements often have a few office spaces or conference rooms available. This enables employees to find some space as needed for meetings or for managers to find a private room for problem solving and decision-making, or to solve conflicts. For one company I know of, the meeting rooms must be reserved ahead of time however, the four offices they have can be used by employees and managers for brief meetings and do not need to be reserved. This enables for managers and employees to have a space to meet for sensitive discussions. In this environment, individual employees will hang signs on the back of their chairs that read either "AVAILBLE" or "BUSY – PLEASE GIVE ME SOME TIME." Additionally, each new hire is provided noise cancelling headsets that enables for them to block out noise around them when they are working.
However, what if the open office environment includes no office or meeting room spaces? One organization that I know of has absolutely no private space. The entire organization is a loft that is completely open with a variety of tables and desks placed throughout their space. Some employees work at long tables, others may be at a desk. In this particular environment, there is no assigned seating area. Employees have laptops and a tote bag of supplies. These are either brought home each evening or are placed in lockers provided. Should they arrive at the office and there is no space to work, they will utilize a hotel lobby or coffee shop to get work done. Or, they may choose to work at home.
When employees come in to work, they select a place to sit for the day. When employees or managers need private meeting space, they utilize rented office space such as WeWork™ or Regus. The organization has rented 4 office spaces for their employees and/or managers to use. These spaces are reserved ahead of time and may only be used for private meetings, problem solving or conflict management sessions and for performance review conversations.
When open spaces are done well, there includes some areas where employees can gather in a primarily open collaborative environment. For example, one of my clients has the following options in their office environment:
Small offices that only hold 1 – 2 people at the most that enable for a private conversations. (The space looks like a phone booth!)
Slightly larger offices that enable 3 – 4 people to get together for a brief meeting.
Team meeting space that enables up to 10 people to get together for a collaboration space.
In addition, throughout the office the organization has what they call "social areas." These are spaces with sofas and comfortable chairs where employees can relax and gather for personal conversations.
When you work in an office environment that values collaborative, open space over private offices, consider any of these ways to find some peace and quiet to get work done:
Utilize hotel lobbies or coffee shops
Put a sign behind your chair when you want to be left alone to get work done
Utilize headsets to block out background noise
On beautiful days, work outside the office in the outdoors
When possible, plan ahead for meetings or private time and reserve space in the office
Do you work in an open office environment? How do you find time to "get away from it all" to get work done? What are your strategies?