A Work Breakdown Structure (WBS) is defined in the Project Management Body of Knowledge (PMBOK®) Guide, 4th Edition, as:
"A deliverable-oriented hierarchical decomposition of the work to be executed by the project team to accomplish the project objectives and create the required deliverables. It organizes and defines the total scope of the project."
A well-developed Work Breakdown Structure (WBS) provides you with a way to ensure you have captured all project deliverables so that you can more easily assign duration and resources to complete the tasks.
To develop your WBS follow these simple steps:
Identify major components of the project
Break the major components into sub-components
Break each sub-component into an activity and task  (work package)

This is where you will assign the work to be done

Sequence and date all activities and tasks and look for dependencies (e.g., a task that cannot begin until an earlier task is completed)
Create your WBS
Example graphical WBS: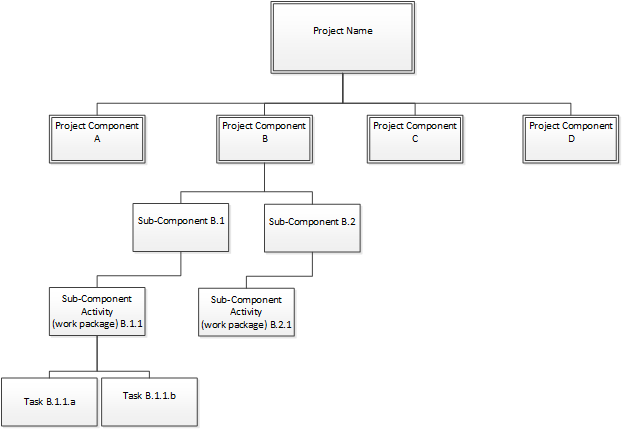 A WBS can also be developed as an outline:
Project Component B

Sub-Component B.1

Sub-Component Activity (work package) B.1.1

Task B.1.1.a
Task B.1.1.b

Sub-Component B.2

Sub-Component Activity (work package) B.2.1

Task B.2.1.a
Task B.2.1.b
Task B.2.1.c
Use the WBS to develop your project schedule. The work packages – activities and tasks – are used to determine duration, cost and resource needs for the project. I like to break down the activities to a point where duration for completion, cost and resources can more easily be determined.
Think through these questions when developing your WBS:
Is the entire scope of the project included?
Is there a team member assigned to each major task?
Are the tasks of a reasonable size to accurately estimate duration and control the project?

Have you considered tasks that are necessary to mitigate project risks?
Are predecessors clearly delineated?
Are "stand-alone" tasks clearly defined?
Did you include all deliverables – from all stakeholders?
Spend time in development of the Work Breakdown Structure. It provides a clear view of what is required (tasks/activities) to accomplish the project and enables for a high level overview of the activities of the project. I develop my WBS with the project team – the input enables for a more complete and accurate WBS than if I attempted to do it on my own.