&
We all know that business is beginning to appreciate the value of green. That's of course in harmony with an increasing "green wave" of awareness amongst the general population. In fact, there has been much discussion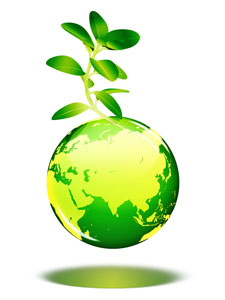 surrounding the topic of green business but very little about green projects, green project management, and green project managers, and this is interesting to us because we see projects as the "business end" of business.  Projects are where business ideas become reality, after all.  Projects, by definition, use resources.  Shouldn't projects, therefore, be a key area of any focus on green business?
We decided to try to fill what we see as a lack of attention to green project management and focus the energy (excuse the pun), research, and recommendations regarding green business as a microcosm of business that is project management, consolidating it into a book about green project management.
On our journey to do that, we felt we were literally one word short.  We needed a word that would communicate a project's green-ness, or eco-friendliness, or enviro-efficiency, or earth-awareness, without using those clumsy-sounding hyphenated words.  With our background in Project Management training and quality, and perhaps due to our scientific and engineering background and the commensurate talents in language (ha!) we decided to coin our own word, greenality.   It's no coincidence that this word ends the same way as Quality.  Greenality, like quality or granularity, is something that can be measured along a scale.   In our book we will make several parallels between greenality and quality.  They indeed have some striking similarities.  We've chosen to define greenality as follows: "the degree to which an organization has considered environmental (green) factors that affect its projects during the entire project life cycle and beyond." It contains two project management processes: (1) creating a plan to minimize the environmental impacts of projects (this includes efforts to simply run the project more efficiently and effectively), and (2) the monitoring and controlling of the environmental impacts of the product of the project.
In the book we will use the term to define a scale of greenality which can apply to the various project process groups (initiating, planning, executing, monitoring and controlling, and closing) as well as different project-defined phases.
We know from running hundreds of projects that a project with a high score in greenality is going to be an effective and efficient project – saving resources, which translates to saving money.  A project with a high greenality score is good for the bottom-line.
If you'd like to read more from our book, we've put the entire introduction on our website – Earth PM.
Copyright © 2010 www.Earthpm.com