Feedback from the Marketing Group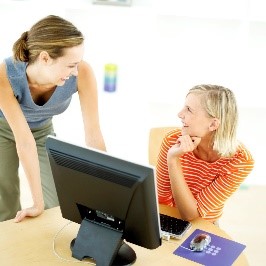 Read Part 1 and Part 2 of the case study.
The project launched and was certainly successful from the perspective of coming in on time and within budget. Additionally, the marketing group was regularly engaged throughout the project. Both Sam and Jacklyn told Alex that they were happy with the project and particularly pleased that at no time did any of the marketing team feel distracted by the project.
Alex attended his last meeting with the marketing group to wrap up the project and to gather their thoughts on the project and his working with them.
Here is what he learned:
The group felt much more comfortable once they were provided details on how the portal was going to change (new features and functionality) and that training would be provided.
They liked having the testing as well as training scheduled earlier on in the project as it enabled them to "block off" time in their calendar.
They felt the testing and training plans were detailed enough for them to feel comfortable with the updates being made to a key technology they use regularly.
They felt involved in the development of testing and training plans which made them happy because they felt there were getting what they needed to be successful.
They liked the support provided afterwards through brief webinars they could view if they forgot how to utilize a component of the portal as well as the "quick reference" handouts.
Overall, the Marketing Group noted that they really felt like they were paid attention to regarding this project. They felt like they had input and were pleased that Alex reached out to them regularly.
Sam, after the meeting, thanked Alex for keeping the marketing group engaged. Sam noted that this was one of the first projects where he felt he didn't have to be involved in addressing concerns of the group because Alex kept them in the loop regularly.
In summary
It is essential to plan early to keep stakeholders engaged and to continuously engage them in the project – regardless of the size or duration of the project. Projects bring change to stakeholders and by keeping them engaged, they feel as if they have some control and feel positive about the project.